Queen Elizabeth National Park is understandably Uganda's most popular tourist destination. The park's diverse ecosystems, which include sprawling savanna, shady, humid forests, sparkling lakes and fertile wetlands, make it the ideal habitat for classic big game, ten primate species including chimpanzees, Climbing Lions and over 600 species of birds.
Come discover savanna teeming with wildlife and backed by the majestic Rwenzori Mountains
Spectacular boat safari
Watching out for hunting lions
Camping among the hippos
The Ishasha sector in the South of the park,is favourable for an afternoon game drive in search of the tree climbing lions. In Ishasha there are 3 prides of lions that climb the trees daily. Unique in the world! The other attraction of Ishasha is the Topis, not found anywhere else in Uganda.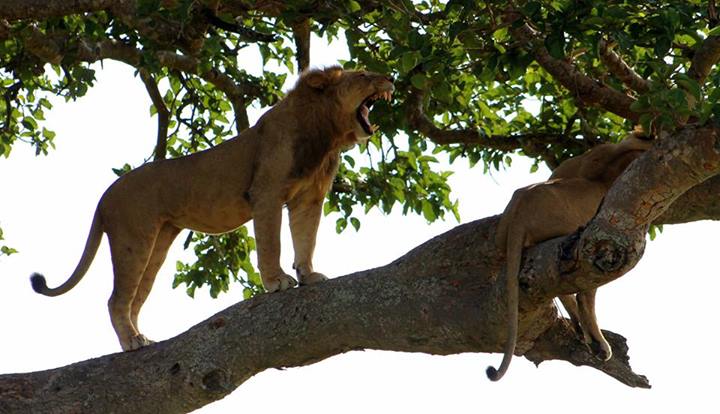 Kazinga Channel
Enjoy a boat ride along Kazinga channel. This natural channel connects Lake George and Edward.You will be rewarded with plenty of wildlife. Keep an eye on the yawning hippos ,crocodiles basking in the sun at the shores,elephants and buffaloes quenching their thirst.
The common Bird species seen along the channel include the Common Squacco heron,African Spoonbill,African Skimmer,Green Shank, Egyptian geese, African Fish Eagle, Sacred Ibis.
The channel has the highest concentration of hippos (est.5,000) in the world.
The boat cruise is between 11am in the morning to 1pm in the afternoon. The evening cruise starts at 3pm to 5pm local time.