Hiking and Abseiling at Sipi Falls
I sat inside the bus to Mbale impatiently waiting for Spacey to show up. The driver seemed fed up with my countless pleas of "she is on her way, ssebo (meaning sir in Luganda) "please be patient she is on a boda boda(motor-bike) and will soon be here!'"But Madame you have been saying that for the last 15 minutes. It's 10.00am and we are supposed to take off right now'' he argued back as I sat helplessly wondering why she was taking so long.Just as the driver was about to leave the bus station, she breathlessly appeared, and jumped into the seat next to me. "I am never on time, Lorna, and am always late!" she said with an apologetic grin. She could see that I was exasperated after repeatedly calling her to hurry her along and cajoling the bus driver not to leave without her.
Spacey and I were in the same class in 2016, we both pursued an IATA course, graduated and started working in the Ugandan tourism industry. However, we had never done a tour together. This was our chance! We dreamed up the idea of exploring Sipi Falls in Kapchorwa, a beautiful series of three waterfalls that lie on the edge of Mount Elgon and the Kenyan boarder.
Sipi Falls
The Sipi Falls area is perfect for a number of exciting activities like trekking along the magnificent water falls, rock climbing, nature walks, coffee farming tours, cave visits and birding safaris. We opted for backpacking since we were both on a shoe string budget. That is why we were using public transportation through Mbale town to Kapchorwa. The drive to Mbale was rather long and uncomfortable, inside the rattly bus. It was really hot inside, and the dusty road outside made it unbearable to open the windows. It was a huge relief to finally disembark in Mbale, and take a few photos with the famous Wanale hill in the background. We ate a quick snack at a restaurant then grabbed a taxi to to take us to our accommodations in Kapchorwa.
We chose to sleep in a back-packer's lodge since most of the Accommodation in town were fully booked. Of course, it was also the option that perfectly fit our budget. We got to our room late, and the weather had turned extremely chilly. The water in the shower was cold enough to induce hypothermia. I squealed, shivered and danced around until I felt clean enough to get out of the frigid water.
The next morning, we awoke to a lovely sunny morning. We were super excited about the Adventure that awaited us. Sheriff Chebet, one of our guides, picked us up on a motorbike and drove us to the office to register, make payments, and to meet our other guide, Juma Chebet. We safer with each of us having our own guide to provide the information and assistance we needed.
Grabbing long bamboo poles that aided us in our trek up and down the falls, we set out. The view was captivating and gave us the chance to pose for pictures inside the caves and to dance under the water falls. One of the three water falls had a massive pool underneath it that prompted us to quickly change into our swimming attire and jump into the water. We splashed water on each other, screamed our lungs out, and danced as we sung off-key to Beyoncé's songs. Juma and Sheriff watched with amusement, and took photos of us.
We decided to wind up the day by walking to another fall and abseiling 100meters beneath it. As soon as we arrived, we were welcomed by Robert, the Director of Rob's Rolling Rock Company. He helped us each to wear a harness around our waists in preparation for our decent.
Even though the guides had warned me not to look down, my curiosity got the best of me and I did. ''Girl, I don't see myself going down there '', I muttered to Spacey as I was overwhelmed by fear. I started to wonder why we ever came up with this idea, I knew we were out looking for adventure but we didn't need to risk our lives in the process. We had already paid a non-refundable fee of UGX 100,00 (about 30 USD). If we decided to walk away, we would have lost our money and feel disappointed for the rest of the day. We decided to go for it, with Spacey opting to go first. I watched her shake like a leaf as Robert instructed her to place her feet on the crossbar, hold tightly to the rope, and let go. She tried at first but then begged to be pulled back up, she was really frightened and wanted to give up. "Lorna come and do it first, I will follow after you'' she said. ''No, you can do it Spacey, it's going to be fun!'' I yelled back. In reality I was even more scared than she was and probably didn't sound too convincing.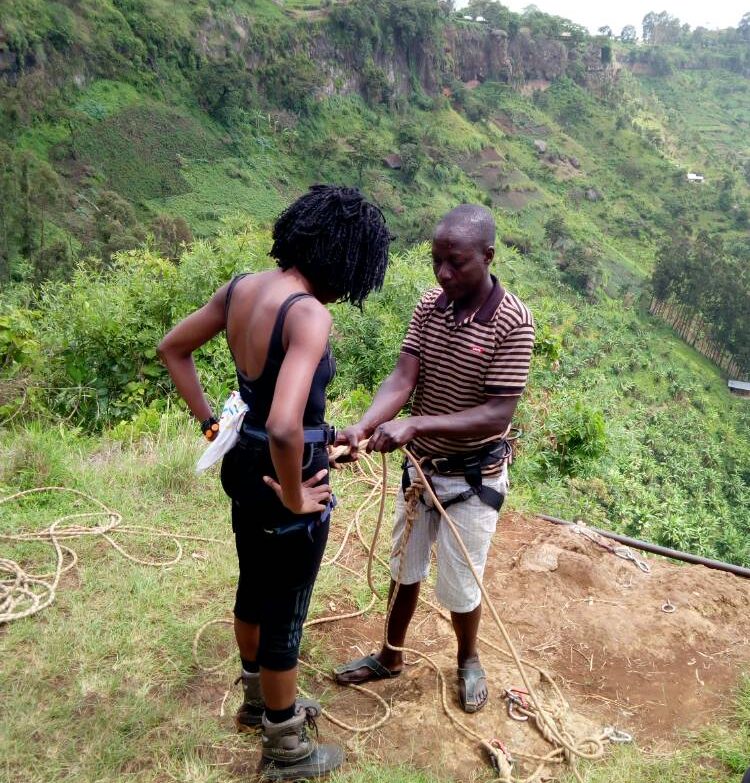 Robert did a great job of encouraging Spacey's confidence. "I won't let anything happen to you. Just relax and trust me!'' he repeatedly assured her. "What if the ropes break?" What if I fall down?'' Spacey stammered out a number of anxious questions, and he answer them reassuringly until she eventually gained the courage to let go. Her first screams of fear were followed by shrieks of laughter and excitement ''I love you Robert. This is so beautiful!" she screamed. "I love you too Spacey. Now look at me and let go of the rope" he shouted back as he shot a great memorable picture of her.
Fifteen minutes later, Spacey was safely on the ground 100meters below and it was time for me to give it a try. I felt the hair on the back of my neck stand up, my heart was beating faster than Usain Bolt has ever run. My stomach churned so loud it sounded like an active volcano was about to erupt through my mouth. "Spacey did it, I need to do it too!'' I repeated over and over again to calm my jittery nerves.
"Place one foot on the crossbar, place the other against the wall, hold the rope and slowly let go. Be careful not to get too close to the wall as you may hurt yourself.'' I heard Robert say as I fumbled around to put my feet on the crossbar. It felt so unstable, and I could barely stand on it since the wind made it shake from one side to side.
''Do I have had to stand on the crossbar?'', "Can't I just hold the rope and go down? 'I asked as I struggled to get my feet firmly on the pole.
''Yes, you can…Are you ready?'' he asked. I was too nervous to reply and quickly let go of his hand, held the rope tightly and let go. My eyes were tightly shut until I heard Robert shout "You are doing it Lorna, open your eyes and look at the beauty around you.'' I slowly opened my eyes and glanced at the Jaw dropping beauty that surrounded me. The reddish-golden sun sinking in the horizon, the rays of light glimmering in the clouds, images of a magnificent waterfall as white as snow, all dazzled me magically. The waterfall roared majestically as the perfect background for the stunning view of the distant hills and beautiful valleys. It was spellbinding!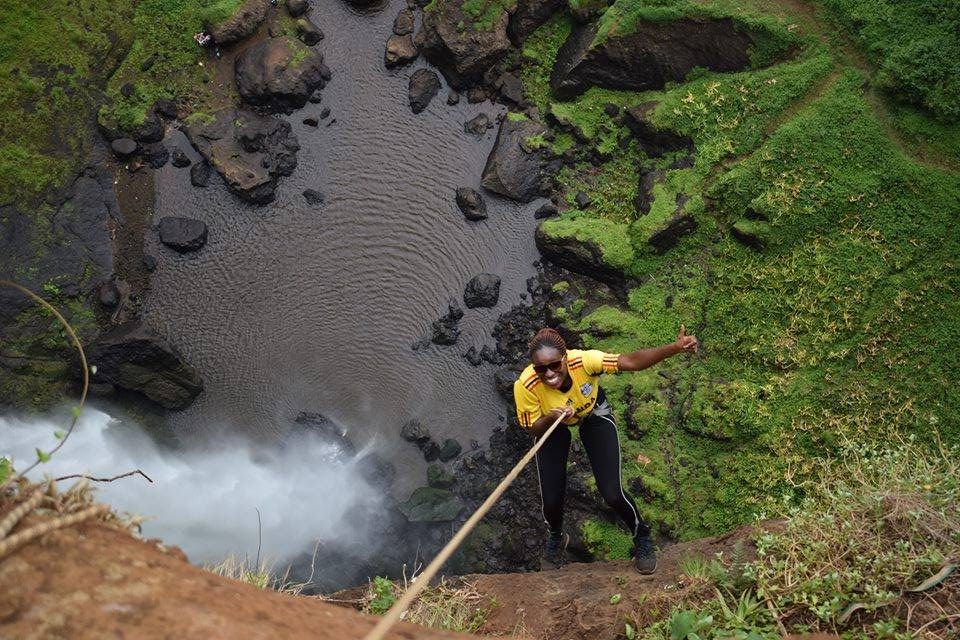 I could hear gleeful cheers from Spacey and Sheriff who were watching from below. My spectacular ride lasted about ten minutes. On the ground, Sheriff hurried towards me and helped take the harness off my waist. Spacey was jumping up and down in excitement "Lorna we did it!'' as we both hugged and laughed. It was such a great experience from fear to a rush of utter joy and excitement.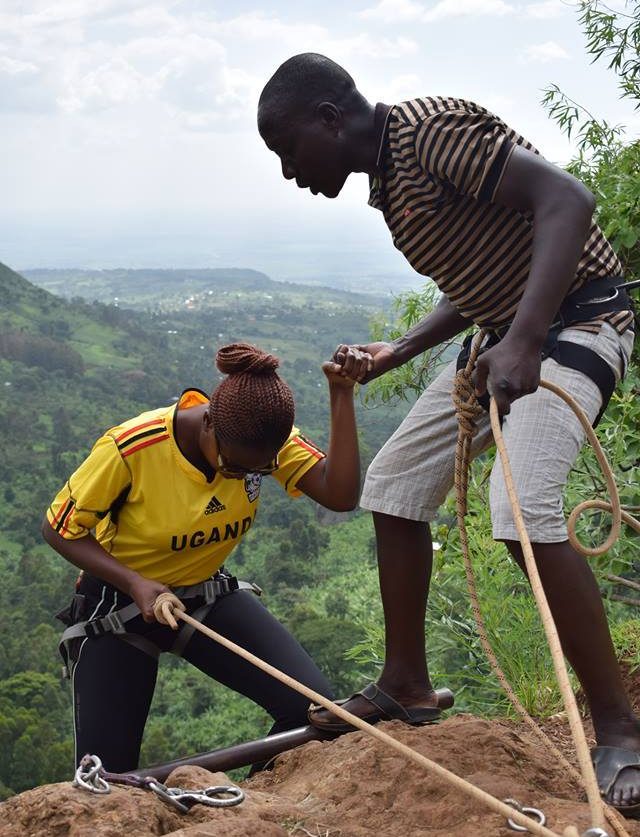 We all posed for more photographs and then jumped on Sheriff's motor bike to ride back into town. We went laughing, screaming and singing. It had been such a lovely day. We ended it that evening by drinking Ugandan Waragi, eating chicken, listening to music, dancing, gossiping, and laughing out loud until we finally fell into an exhausted sleep.
We woke up to a lovely breakfast the next morning at Noah's Ark hotel. We took a lazy walk around the town, and then grabbed a taxi to head back to Kampala that afternoon. We felt brave and content from our great adventure!
Many thanks to my friend Spacey for going on this adventure with me, and of course to our lovely guides Juma, Sheriff and Robert for their commitment and professionalism. I highly recommend them as the best guides to contact at Sipi Falls. You need to experience this too!
Republished with permission www.lornasadventures.com