Chimp viewing and Birding at Ngamba Island
Ngamba Island is a chimpanzee sanctuary.It is home to orphaned chimpanzees.
Ngamba Island
The chimpanzee sanctuary is home for 49 orphaned chimps currently. Numbers may continue to grow because of the illicit trade of chimps. Lucky enough there is an organization like the Chimpanzee Sanctuary and wildlife trust (CSWCT) an NGO that has taken it upon themselves with the support of donors to provide exceptional care to the chimps.
The chimps are confiscated and rescued throughout Uganda and are later handed over to the wildlife authorities who entrust the chimps with the NGO.
Chimp viewing and Birding
A visit to this island is such a wonderful experience. My visits to this place have always been exciting. On my recent trip with friends we extended our trip to neighbouring Koome Island for bird watching where we were surprised to see the Black bellied Bustard mostly seen at Lake Mburo National Park. Seeing the chimps feed is such a humbling experience. What impresses the onlooker is the time keeping and the gesture requests for food.Chimps are fed four times a day on the Island. Chimp Intelligence is 98.7%.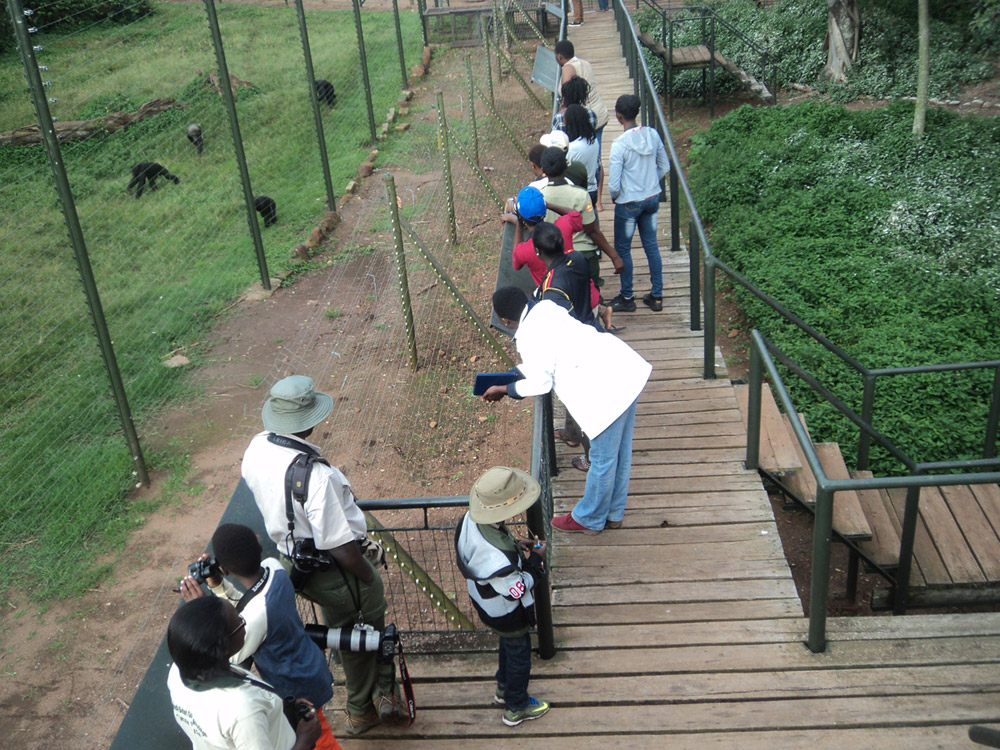 These chimps are held behind an electric fence so that they do not escape. The NGO has done its best to keep them in the forest habitat alongside caged shelter. This is done to enable the chimps to assimilate to its original environment and also have a chance to closely look after them.
It is humbling to listen to the sanctuary care taker stories about their behavior especially the battle for the Alpha male position, grooming and looking after the young chimps. The rivalry for this position reminds me of the various leadership rivalries at School, Sports arenas and Politics where individuals compete for positions. The chimps are no exception since they are man's closest relatives.
There are many activities at the Island available to the visitor that includes Chimpanzee feeding, visiting the nearby fishing villages, become a care giver for a day, go for a sunset cruise. If you are bird watching enthusiast, you can go birding at the nearby Koome Island.
Voluntering
Volunteer programs are also available at the Island and other natural habitats in western Uganda. This program gives you a firsthand insight into the conservation activities of these endangered species. This enables you the visitor to further educate yourself and the public about the importance of chimpanzee conservation . Meet Medina the chimp artist and other chimps with interesting stories. You have to be there yourself to capture the real stories.
Any visitor Restrictions: No visitor age restrictions. All are welcome.
Accommodation: Tented accommodation is available with additional camping tents.
A Night visitor will also be able to enjoy an evening camp fire.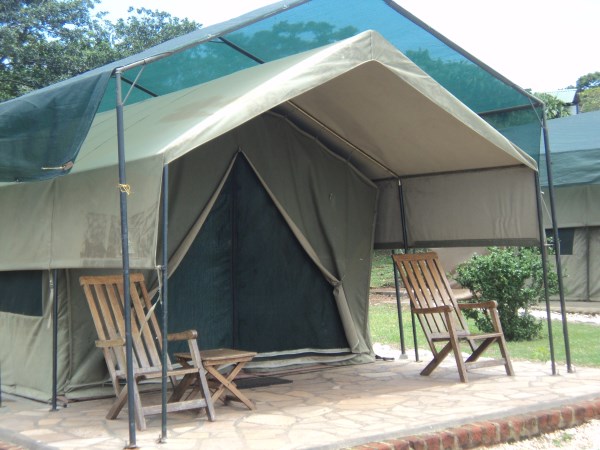 Booking: Book directly with the Ngamba reservations office or tour operators like Rafiki Eco Safaris.
How to get there
Ngamba is 23km on Lake Victoria. It can be accessed through Entebbe by boat. The boats cater for various groups and budgets. Traditional motorized canoe takes 90 minutes. Speed boats travel for approximately 45- 50 minutes. Half and day boat trips leave at 9:00am or 12:45pm.