Irresistible Mount Moroto
Hiking Mount Moroto
"I have forgotten my handbag in my bedroom" I uttered out in dismay as Ivan our Uber driver parked the car in front of the Namayiba bus park where we were meant to board the bus to Moroto. Cyndee pelt, an amazing friend of mine that works for the American embassy in Kampala, said to Ivan and I, "Let's drive back to your home and pick it up''. With that, we put our seat belts back on and began to hurriedly drive back to Bukasa a Kampala suburb where I reside.
"I forgot to re-fuel the car and it looks like we are running out of fuel'' uttered Ivan as we glanced at him in distress. It was about 02.45am and the bus was meant to leave at 3am. I wondered why any driver would drive clients around with a tank that was almost empty but at the same time I didn't want that to heap blame or lose my cool as it was not necessary. After trying and failing to get fuel at three different petrol stations In Kabalagala one of the liveliest suburbs in Kampala, we were lucky to finally get a fuel re-fill at the fourth petrol station along the road. We hurriedly rushed to my house shortly after to fetch my bag and rush back to the bus station.
The air in the bus was quite stale as some of the passengers had been sleeping inside for hours, myself, Cyndee and Paulinas, a brother from the Tapac monastery in Moroto, were seated closely to each other at the back of the bus. Frederic Lepron, a former sports journalist & professional photographer in Paris and Les herbiers in France was also coming along with us. He was luckier than us, as he had found himself a much more comfortable seat at the center of the bus.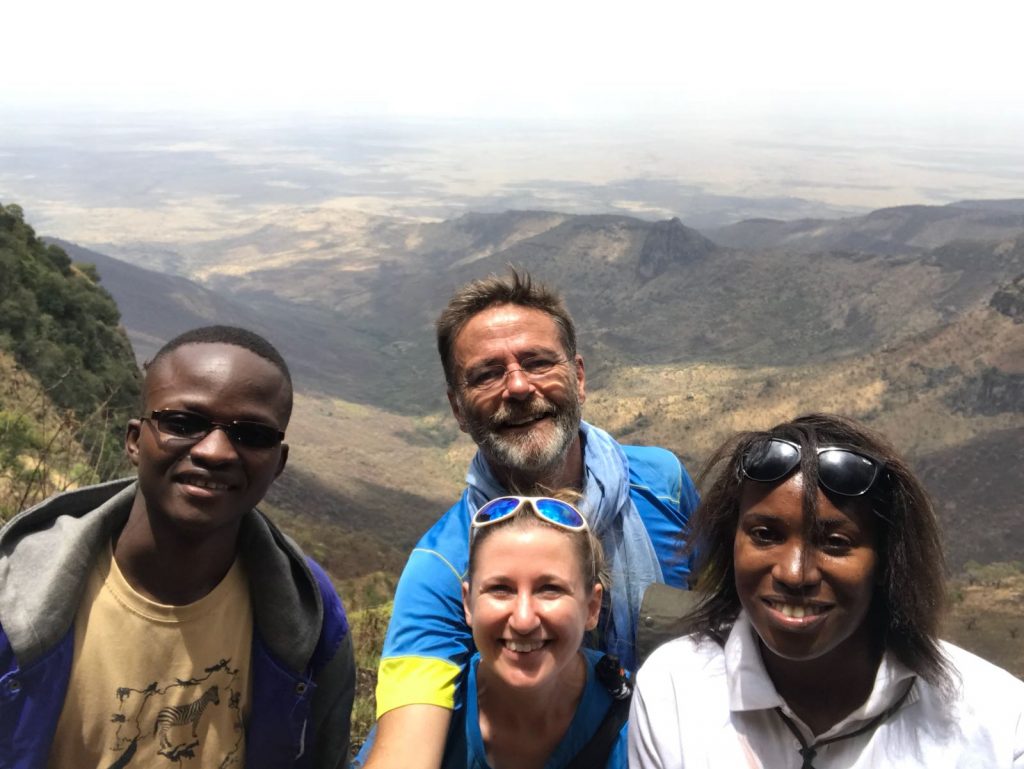 "Are you sure you never want to get married?" I asked Paulinas again (I have asked him this samequestion several times before). "Yes! I want to be free and dedicate my life fully to God." He responded as Cyndee and I looked at him in dismay. I still have difficulties understanding why a young aesthetic man like himself would choose that path in life.
'Do you have mountains in Burkina Faso?' I continued to pester him with various questions. 'Of course, we do, but they are not as high as the ones you have here in Uganda. "You should Google about it and learn more" he responded as I laughed. I have never met anyone from Burkina Faso before hence was intrigued with Paulinas and wanted to find out as much as possible about his country, the people, culture and lifestyle.
We were in Soroti at about 1pm; the scorching heat could be felt from within. The driver halted to take in more passengers in a bus that was already bursting with passengers. More passengers poured in carrying plenty of luggage, chicken, food stuff and children. The bus was carrying more passengers than the legal limit opting some to sit on tiny stools and buckets along the bus corridor rendering movements within the bus almost impossible.
By about 4pm we had safely arrived in Moroto town, the alluring mountain ranges could be sighted at a distance. After bargaining for several minutes with the boda-boda riders we finally heaped our bags on bikes as we sat and headed out for the 47km ride to the Monastery in Tapac where we would rest for the night.
The surrounding mountain ranges were prepossessing; I have always considered Moroto as one of the most unique districts we have in Uganda ranging from the semi-arid climate in some months of the year, the pastoralist background of the locals and their unique form of dressing, culture and lifestyle which they have maintained to date. The Karamojong can easily be compared to the Masai of Kenya and Tanzania who are among the most admirable tribes in Africa.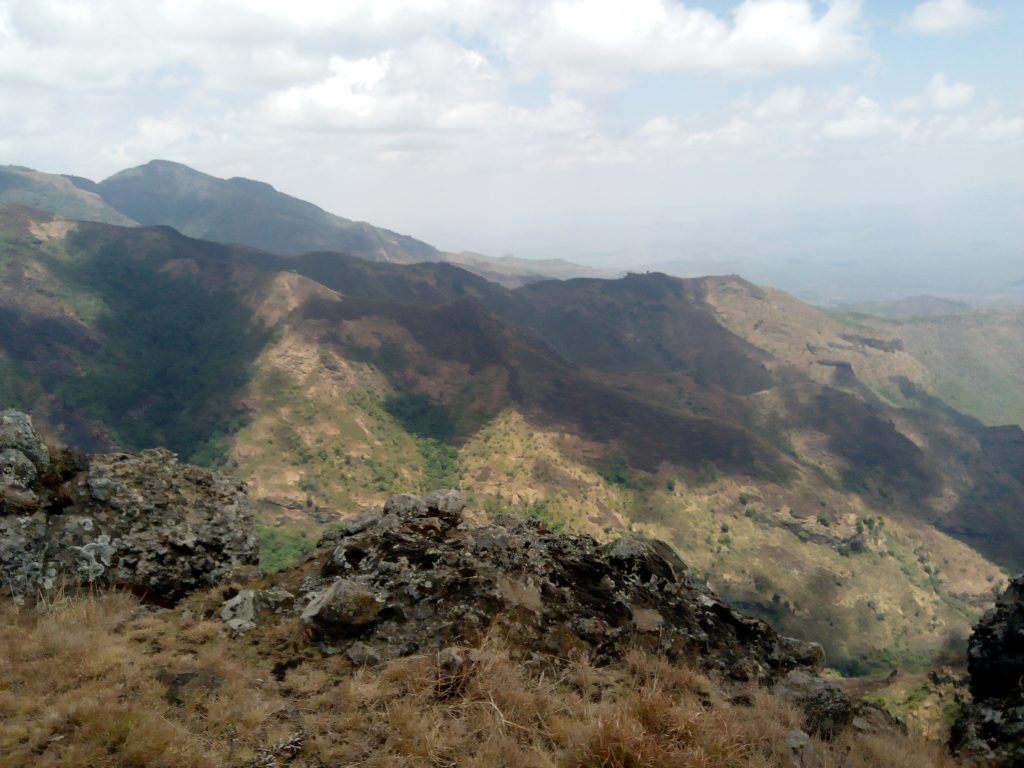 "I think we are going to fall!" I said to my boda-boda rider as we fidgeted through a muddy path on the road. He narrated how the heavy rains had poured in the past few days rendering some parts on the roads impassable. "I think it's best if I get off the bike and walk a bit ahead to make it easier for you to ride through", I continued to say to him as I got more and more uncomfortable. I was seated with a heavy bag, a tent, hiking sticks and a sleeping bag. I felt like the weight on the bike needed to be lessened especially during the slippery part that we were heading for.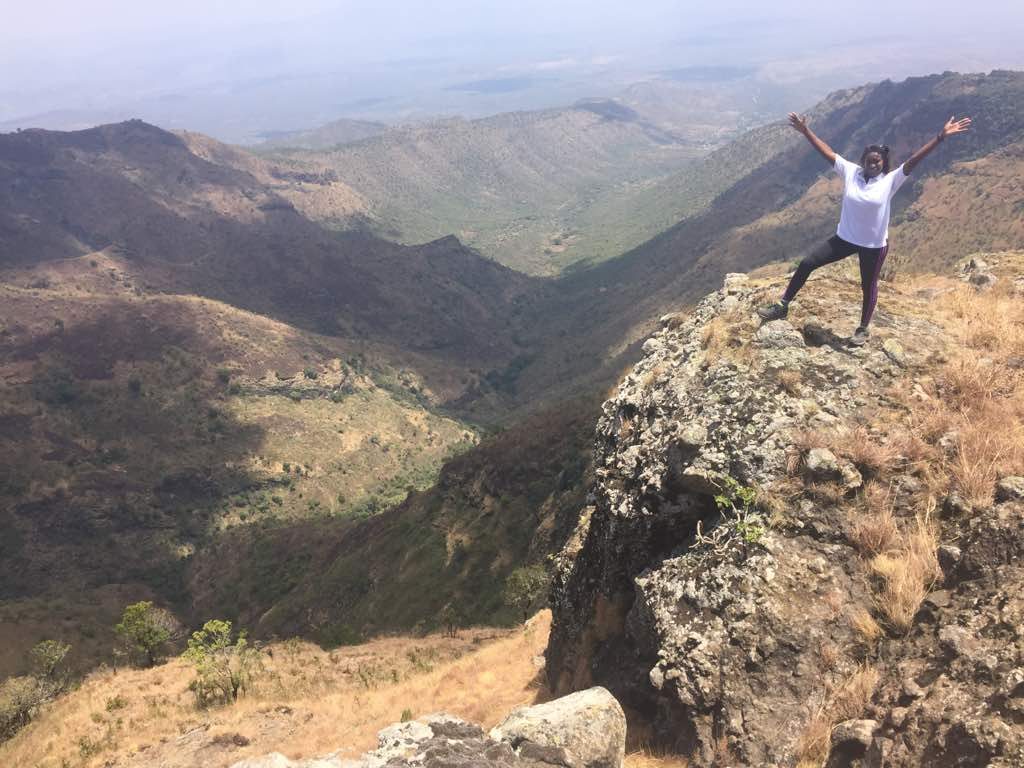 "Don't be afraid Madame we are going to pass" said our rider. As soon as he had completed that statement, the bike gave way making us fall hard in the middle of the road! I watched as my oranges scattered all over the place, my bananas were mashed into a pudding, my elbows and knees were grazed and bleeding. Luckily for us an ambulance was passing by and offered to clean and disinfect my wounds to avoid an infection.
"I think I will walk to the monastery "I said to him as he urged me to jump back on to the bike. "It's almost 8km between here and the monastery Madame. It is very far come and we go'' he insisted.
"Don't worry about it, I will still pay you fully for the entire journey" I insisted and grabbed a bottle of water from one of my bags and started the long walk to the monastery. Frederic and his boda-boda rider caught up with me and he decided to get off the bike and walk with me.
I was in a bit of pain but tales of France from Federic played a great role in keeping me distracted. We walked for about 2km until Paulinas caught up with us riding a massive CTX200 Honda motorbike. "Let me carry you Lorna, the monastery is still far ahead. I will come back and pick Federic up as soon as I drop you off.'' Paulinas said to us as I jumped on to the back of the bike without any hesitation. I insisted on wearing his red helmet and comfortably held on to him as we set off. I was fascinated by the size of the motorbike, I have always been a huge bike lover but I would never attempt to ride one.
"Am glad you kept your word and came back" Father Hans said to me as I arrived at the monastery. Father Hans is a German priest who has lived in Uganda for almost 20 years, serving in different monasteries within the country.
"Are you all okay?" Cyndee asked. She had arrived an hour earlier before the rest of us and was worried about us, as we had taken a while to arrive. She was relieved when we all safely got to the monastery.
After settling into our rooms we sat down for dinner at the monastery living room. Being International Women's Day, Cyndee and I were treated like royalty by the gentlemen. They set the dinner table for us, served us food and even offered us a tasty bottle of whisky to celebrate womanhood. Cyndee and I felt quite honored, but were careful not to drink too much as we had a long hike the following day.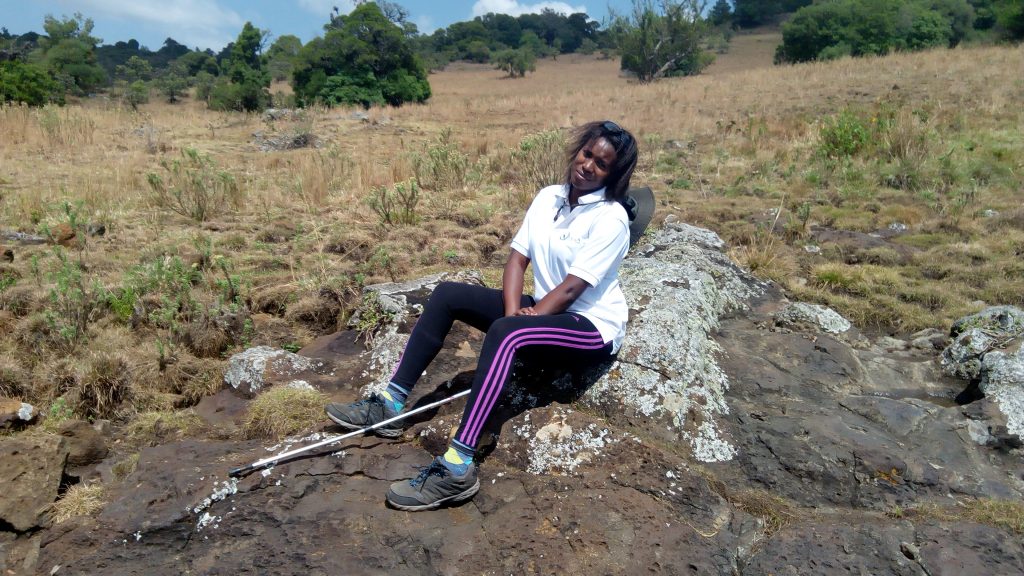 We were up by 7am Friday morning and by 7.30am we were gracefully walking past the fields and on to the trail that led to the ascent of the mountain. The distant views of the mountain peaks got clearer prompting us to take out our cameras and capture some memorable shots. We had agreed to hire some local porters from the community to help carry our bags so we could pay them in return; money they could use to buy food and cater to their personal needs.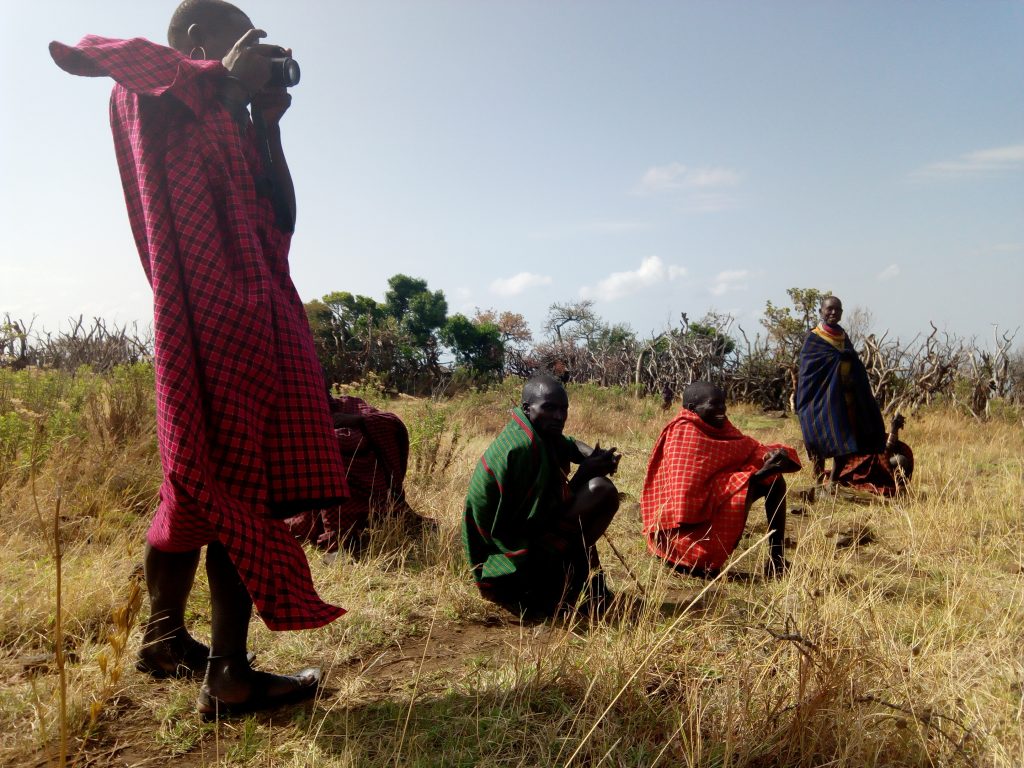 There were plenty of massive cactus plants along the trails that highly fascinated all of us especially Cyndee. Our first stop was at a small Tepeth community of Karamojong that spend most of their time in the mountains and rarely descend to socialize with neighboring communities and villages that surround the parish. They barely go to the health center when they fall sick; they would rather visit the neighboring forest to hunt for medicinal roots and leaves to treat their illnesses.
"She is asking you to give her soap or salt as a token'' one of the guides translated to me as an elderly woman pulled out her hand towards me and spoke to me in the local language. Federic was kind enough to give away a bar of soap with a lovely floral scent that got her excited and the rest envious of her. We gave out salt, biscuits and oranges to the rest of the women and children as we taught the men how to hold the camera and take pictures.
We got to the forest and pitched our tents leaving most of our luggage behind alongside two guides. We recruited 2 more local Karamojong guides who diligently led us through the various trails within the mountain.
I rated this particular hike as one of the easiest I have ever done because we set a comfortable pace for everyone and hiked as a group, unlike a few previous hikes I have done before where some hikers were a bit too fast and others too slow. We put emphasis on sticking together as a team, which is usually much easier when hiking in a small group. The sun was not as strong as it was in the previous months and this worked to our advantage. The skies darkened at some point threatening rain but luckily there was no downpour, whilst the distant views of Mount Kadam and other ranges were mesmerizing.
I noticed Federic was extremely excited, he was constantly recording videos of the views and speaking in French. I imagined he was eager to share the beauty of the mountain with his friends back in France, probably entice them to visit the country and do the hike themselves. Cyndee on the other hand pulled out her camera and was busy capturing photos of various bird, insect and plant species. Uganda boasts about 1,000 various bird species, making it an ideal birdwatching destination for bird lovers like my dear friend Cyndee.
We successfully summitted the Imagit peak by 2pm, captured lovely photos with the Ugandan flag and later begun our descent towards our camp in the forest. The Karamojong guide and I were feeling exceptionally energetic and opted to compete by running down the mountain towards the forest every now and then, until we got to camp. I could tell he was impressed with the fact that I was running after such a tiresome day of ascending.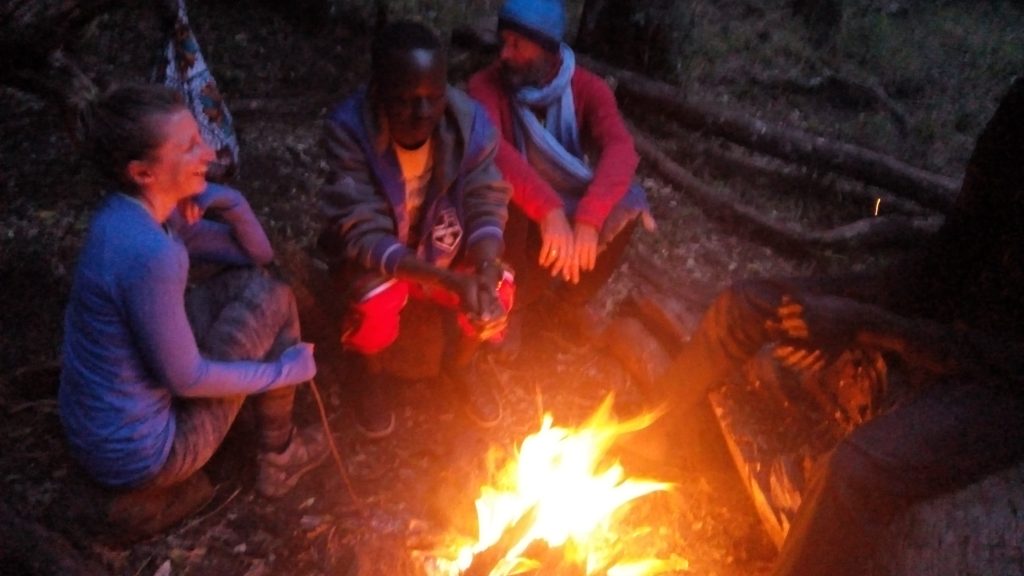 We were all settled in at the camp by 6pm. The guides were busy cooking beans at the fire they had set up, Federic was making some tea and noodles on a tiny stove he carried along, the rest of us were munching on various snacks to get our energy levels back as we sat around the fire to keep warm. We hung a speaker on the branch of a tree and started to play and dance to all sorts of music from France, Uganda and West Africa. The best moments of every hike to me are the excitement and celebrations that come after the descent; the feeling of accomplishment is always so good that it makes me want to dance and be merry. I barely slept as it was extremely cold in the night and the guides could not stop laughing and cracking jokes by the fire, this went on till dawn. It was a beautiful experience for me, very different from my usual comfort zone.
We were up by 7am, had some coffee and begun our 2-3 hour descent back to the monastery where we were welcomed back with a feast fit for a king by Father Hans and Father Jimmy. After lunch and a few beers, we took showers and jumped on motorbikes in preparation of the 47km journey to Moroto town to board the evening bus back to Kampala.