Lake Bunyonyi -A place of many little birds
An ideal place to chill out on a holiday or after your safari
Lake Bunyonyi – A place of many little birds is a stunning beautiful water body in south western Uganda. Its formation was a result of volcanic activity several years ago. Lava dammed river Ndego thus blocking its continued flow.
The morning mist and melodies of birds welcomes you. Lake Bunyonyi's crystal clear waters are free from Bilharzia, crocodiles and hippos.
With 29 islands, it is an ideal place to chill out on a holiday or after your safari to other scenic destinations. Enjoy the views of the terraced hills and other islands.
Lake Bunyonyi Rock Resort
My holiday at the resort was such an exciting one on an invitation by the founder of Lake Bunyonyi Rock resort. I spent two nights at the resort and later proceeded to Kisoro, another tourist destination.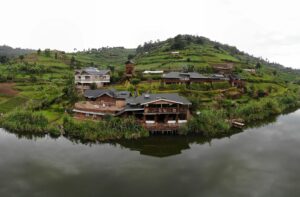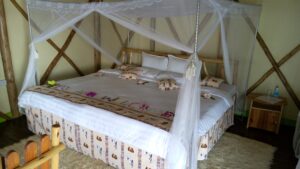 As you relax at the balcony, you can enjoy better views of the surrounding terraced hills. At the resort you can watch a wonderful sunset. It is a nice place to chill out as you enjoy the melodies of the little birds.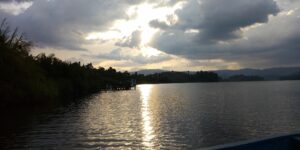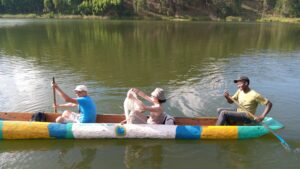 The cuisine at the resort is well selected by the welcoming staff . It is mix of both local and international dishes. Cray fish delicacies are available to visitors at the resort.The Louisiana Cray fish was introduced to Lake Bunyonyi from Kenya.
It can be your ideal starting point for a gorilla trekking safari to Bwindi Impenetrable and Mgahinga Gorilla National parks.
Canoeing and boat ride around the islands
Punishment Island
A lot can be enjoyed at lake Lake Bunyonyi. The two – hour boat ride on the lake enables you to tour the lslands including the famous punishment Island known locally as Akampene.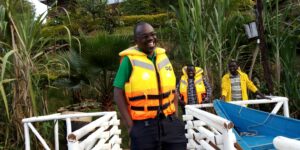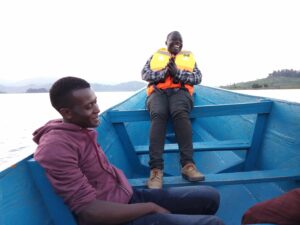 This small marshy island hosted excommunicated girls who were delivered by their relatives for having got pregnant before marriage. The girls were sometimes lucky to be rescued by a man in passing boat who would take one of them as a 'free" wife without paying bride price.
Story of a survivor
My tour guides narrated a story of one of the survivors still alive known as Mauda Kyitaragabirwe. When it was discovered that she was pregnant, her parents sent her to the Punishment Island. It was considered a sound deterrent to other girls to abstain from pregnancy outside wedlock. She was left to die at the island but by God's Grace, she was later rescued by a passing boat man.
However, Mauda later had a miscarriage since she was brutally handled on her way to the island.
During the pre-independence times around 1930s, parents in the area supported the excommunication of pregnant unmarried girls. The pregnancy outside wedlock was considered as bringing shame to the families and society thus denying them bridal wealth. The bride price is in form of livestock.
Today the punishment island is the only one that does not look beautiful with only two dry trees and long drying grass seen on the island. One can think that the island was cursed by the girl victims. Even birds hardly perch on the island.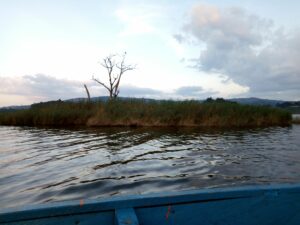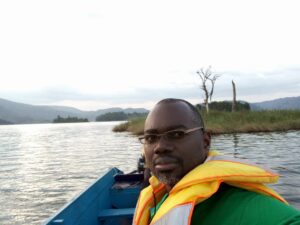 In another region girls faced a similar fate, around Kisiizi falls. The girls were thrown off the cliff. It was such a painful episode for the girls. However, one day one girl dragged one of her tormentors with her over the cliff. The practice stopped indefinitely.
Other Islands
Bwama Island is another historical island. A missionary doctor set up camp in this area to help the community recover from leprosy. Dr. Leonard Sharp and his team established the center in 1931. It remained open till the 1950's.
Today the island is home to two schools, a secondary and primary school. Students can access them by boat because no permanent village exists on the island.
Dr.Sharp established a home on Njuyeera Island known today as Sharp's island. He lived here with his family.
Hiking to the Top of the World
Hiking to the top of a hill known as Top of the world is another exciting activity. You will be able to see surrounding islands clearly. It is recommended to keep your camera close to you so that you do not miss out on the amazing views.
The hike combines a village walk and bird watching along the way. My guide shared local knowledge about the plants used as herbal medicine and food crops by the community. I enjoyed the amazing views of the surrounding islands and terraced hills.
The hikes are less strenuous. You can take them at your own pace. You will get close to the village residents. Advanced booking is required for Traditional dances.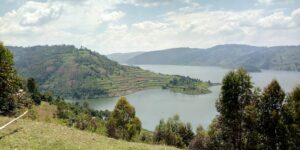 Birding
Uganda is a birding paradise. It is home to over 1000 bird species. Bird watching is such a relaxing and refreshing activity. Bird species seen in the area include; the grey crowned cranes, fly catchers, sun birds, pied king fishers, pelicans, cormorants and weaver birds.
Ruvuma swamp is an ideal birding spot. Common endemics include papyrus gonolek and yellow warbler.
Other top things to do and see around Lake Bunyonyi
As a tourist you are spoilt for choice. You will participate in a number of activities that includes a visit to a homestay, Local markets,Canoeing and a visit to the black smith.
Activities and places to add to Lake Bunyonyi safari
Beautiful destinations exist in Uganda that are attractive for your extended stay.They include a Gorilla trekking safari to Bwindi and Mgahinga Gorilla National Park. Canoeing on lake Mutanda, a visit to other punishment Islands, cultural tours to communities and hiking the three mountains of Mt. Muhavura, Gahinga and Sabinyo.